Blackball Software
MirrorWave
Case Study
Productising a consultancy service
Global scale & cloud-based
Reduction in staff costs and human error
After running a successful consulting business for a number of years, Jeannie and Reg wanted to get off the time-for-money treadmill and realized they needed to automate.
With Blackball's help, Jeannie and Reg were able to bring together multiple disparate systems, reduce human input, and embed their consultancy into a single cohesive cloud-based product - MirrorWave.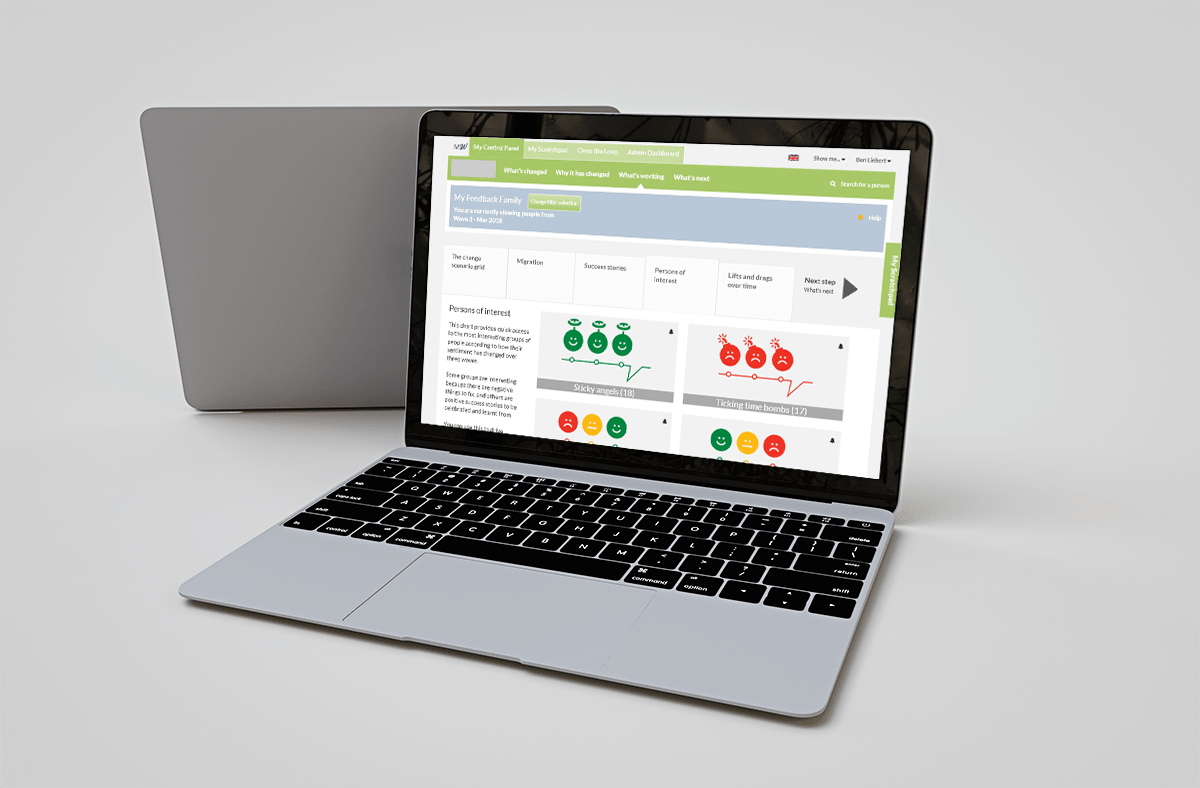 The business
MirrorWave provides feedback software to drive profitable business outcomes for businesses who are serious about their deep, enduring customer relationships - with individual customers, strategic accounts or two-way partnerships.
It's a pre-configured system which makes it easy to get into a rhythm of listening and responding to feedback. Using a world-first approach to follow individuals over time, MirrorWave creates relationship stories to show what's changed and why, what you need to do and if those actions worked.
The problem
MirrorWave's challenge involved collating people's feedback over time and displaying it in an intuitive, cloud-based interface. It was also important that the new system had the ability to scale and was future proofed.
Initially MirrorWave needed to rapidly move from an older platform that didn't meet their or their customers' needs. Over time, the system needed to grow along with their business, allowing them to scale without impacting usability or performance.
The business relied on highly sophisticated and unique processes and reporting. They needed deep customisation to deliver this on their platform. To do this required a high degree of collaboration with their development partner to achieve the desired end result.
Although the business processes were sound, the dependency on manual intervention was preventing MirrorWave from scaling with any significance and achieving their vision of embedding a consultancy method into a 'software enabled service' platform.
The Minimum Viable Product (MVP)
Blackball met with the MirrorWave team over a few days and soon understood the challenges Jeannie and Reg were facing:
Too many separate systems
The MirrorWave process was being implemented in three completely distinct systems. Between each phase, data had to be exported to Excel, manually massaged into a different format, then imported into the next system.
Human error
The multitude of manual processes were inevitably leading to human error, potentially discrediting the reputation of the MirrorWave platform.
Customer wait time
Largely due to the separate systems, customers would have to wait sometimes days in order to progress through different phases of the MirrorWave program.
High staff costs
In order to facilitate the process, each of their customers required a large amount of time each week from MirrorWave's program management team.
Customer onboarding was difficult
New customers could take weeks to load into the MirrorWave platform - not exactly a favourable first impression of the system.
After listening to Jeannie and Reg outline their vision and talking to the wider team, the initial development allowed MirrorWave to seamlessly move from their existing platform to a new one, adding a lot of value to their customers with little to no negative impact.
"Taking an agile development approach allows us to learn and develop as we go, and not waste time and money scoping an end solution that may not be the right fit."
The MVP included:
A central platform, in the cloud
A web application would initially be developed to allow MirrorWave's program managers to administer the system. Later, we would further reduce the administration costs by allowing clients themselves to log in and configure their systems.
Bespoke software components
MirrorWave was using third-party systems to conduct activities such as free-text analysis and email notifications. Because these functions were central to the MirrorWave platform, we decided to develop bespoke systems from the ground up and integrate them into the core system. This had the added advantage of allowing MirrorWave to later develop and customize these systems in any direction they chose.
Automatically connect their systems
We don't like to re-invent the wheel, so where the third-party systems were functioning well, we integrated via their APIs.
Support for multiple languages and countries
MirrorWave had customers from around the world, but communication was a problem. Blackball developed the new platform with language and timezone-awareness baked in from the ground up. MirrorWave could now manage all their communications from a single place, while remaining tailored to fit any of their markets.
The evolution
Three months later, their MVP was live and MirrorWave was bringing their customers onboard. Jeannie and Reg had proven the value of systematising their business and were now ready to expand their offering.
"Blackball over exceeded our initial expectations in terms of delivery in full, on time, which has continued through our relationship."
Over the next couple of years, the MirrorWave platform grew to include:
Automatic alerts and follow ups
With their Close The Loop system, MirrorWave was able to automatically detect critical responses and escalate them to the appropriate account manager.
SalesForce integration
Customers using SalesForce could now manage and report on their MirrorWave program from directly within SalesForce itself.
Sophisticated permissions
MirrorWave's clients are often at the enterprise level and the associated levels of authority needed to be reflected in the MirrorWave platform. We developed a flexible architecture that could serve clients at any level.
Opening up new markets
When MirrorWave later determined new markets beyond their customers over time methodology, Blackball's flexible architecture meant we could easily accommodate the new processes and reports with minimal updates.
Customer segmentation
Clients could segment their customer base in any arbitrary number of segments, such as country or business division.
Real-time reporting
Clients could sign in to the platform and view their customer responses in real-time as they came in.
Outcome
The new system has allowed MirrorWave to achieve one of their core strategic objectives - to embed their consultancy method into a Software Enabled Service Platform.
"The team at Blackball have a savvy commercial outlook, backed by their IT knowledge, which allows them to see the big picture of what we're trying to achieve, and develop the right solution together."
In the words of one of MirrorWave's customers: "From a user standpoint, the software is very easy to use and intuitive. The ability to dive deep into the data and produce a range of analysis is first class."
Six years on and MirrorWave feels more like a friendship than a business relationship. Blackball has shared the highs and lows as their business has continued to grow, and we've certainly evolved as developers as we continue to systematize their unique methodology into our platform.
"It's the ongoing relationship over a number of years that has continued to add value to our business."
Jeannie and Reg have been fantastic to work with, and we know they're pretty keen on us too because they're still coming back for more!